With the 4T Prosperity Program, When You Change Your Mind You Change Your Life!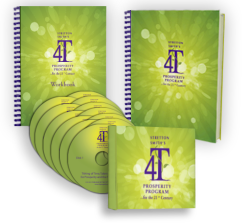 Since the 4T Prosperity Program's inception in 1988, over 200,000 students from more than 1,000 churches around the world have experienced and enjoyed increased abundance in every aspect of their lives.
There have been numerous requests for an updated version to bring these tried and proven Truth Principles and teachings into the 21st Century. The updated new edition is now available to reflect our contemporary world and includes a new word-for-word Text, newly recorded CDs and a new Activities Workbook.
4T's original formula has been updated and enhanced with presentations of additional Truth Principles, updated reference materials, modern stories and exercises. The entirely new Activities Workbook provides "hands on" exercises, illustrations, thought-provoking questions for self-analysis, personal statements, and other modalities to stimulate the student's progression through the course. A world-class team was assembled to rewrite and narrate the new edition. Be sure to look at their bios on the About Us page.
If you're a minister interested in transforming the prosperity consciousness of your congregation, the
NEW 4T Prosperity Program is now available for presentation within your church.