Stretton Smith's all-inclusive version of the 4T Prosperity Program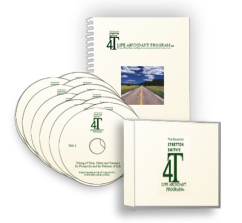 We are excited to make available the 4T Life Abundant Program for the first time! This version was developed in 1994.
The 4T Board, The Rev. Dr. Glenn Mosley, Robert Steuer and Shannon Smith Steuer, feels this version is very well done, inspirational and needs to be unveiled. For those of you who like Stretton's purple version, we believe you will be very pleased with the 4T Life Abundant Program. The recording quality of this program is gorgeous. It was one of Stretton's first recordings of the 4T concept. And while the content is similar to his purple version, his soothing voice is clearer, more resonant and even more vibrant throughout.
We are offering it at an introductory price of $45 per set. We would be happy to send a preview CD for those interested in presenting this all-inclusive version. Ministers and students alike are excited to have their "old friend" back!
Below is a full description of the program:
Commitment
During the 12 weeks, each student commits to:
attend church services and 4T classes weekly.
meditate daily on the ideas of prosperity.
volunteer for work with his/her church or some other non-profit organization.
tithe 10% of his/her income to their church.
The participating ministry also commits by guaranteeing that the student will be wholly satisfied; that is, that the student's life is guaranteed to be more abundant at the end of 12 weeks, or the entire tithe will be refunded, upon request.
Dual modality learning system
The 4T Program includes Individual recordings on CD or tape and a word-for-word transcript of each lesson in an accompanying workbook. The course uses both modalities, hearing and seeing, simultaneously, for deeper understanding. The course consists of twelve, two-hour classes which encompass:
listening to and reading the lesson.
sharing of successes,
discussion about the lesson,
intentions set in small prayer groups,
weekly tithing.
The length of the course gives each student a sufficient amount of time to assimilate the basic prosperity principles into consciousness and to have those principles expressed in his/her own life.
Box Set of twelve CDs plus Workbook – $45
(introductory price)