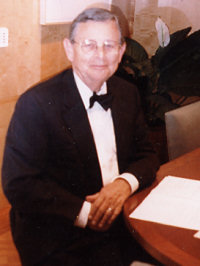 Rev. Smith was raised in the Episcopal tradition. As a young adult he became an agnostic. Originally from Arizona, he graduated from Stanford University and went on to work for more than 30 years as a senior executive in the corporate world. It wasn't until his late 50's that he had his epiphany. In one instantaneous moment he knew that God is, that God is within each of us and that God's major power is Love. He discovered the Unity movement shortly thereafter and began studying Truth Principles. He decided to devote his life to teaching others and embarked on a path to becoming a Unity minister. 
Ordained by the Association of Unity Churches, Stretton served as Associate Minister at Christ Unity Church in Sacramento and then as Minister at the Unity Church of the Monterey Peninsula. As a well-known Unity minister, he began teaching students about the riches that God holds in store for each of us, and from there he formulated the ideas of what was to become the 4T Prosperity Program. Rev. Smith lived the rest of his life holding dear to these Principles. The original incarnation of this 4T is what we now have as the 4T Life Abundant Program.
During his last years, he was very much at peace. It was of great importance to Rev. Smith to know that his final rewrite of the 4T Prosperity Program was completed. He finished it just weeks before he made his transition and was able to see it in print. He was at peace, knowing that 4T would continue to help others to live a more abundant and meaningful life.
The Charles Fillmore Award was posthumously given to The Reverend Stretton Smith in 1999 for demonstrating visionary consciousness and dynamic leadership as the 4T Minister and author of the 4T Prosperity Program©.
Rev. Smith's vision and work continue to live in the 4T Prosperity Program for the 21st Century.